with premium cotton and high added value

Large range of allover prints
We produce a large range of allover (rotary and digital) prints, burn out, flock, plastisol, water base, discharge, transfers, sublime, etc.

Large fabric variety
We work with 100% Pima cotton as well as blends with other fibers like modal, viscose, polyester, spandex, nylon etc in order to achieve fantasy knits.

Production capacity
Our production capacity is 50,000 garments per month

Different washes
We offer different types of washes such as enzyme, silicone, sand, spray, potassium, chlorine and stone washing.

Highly skilled workmanship
Embroideries and appliques as well as hand-made embellishments with highly skilled workmanship.
We have provided high quality cotton garments to well known brands like Armani Exchange, Abercrombie & Fitch, Anthropology, Hollister, American Eagle, BCBG, Burberry, Calvin Klein, Donna Karan, Esprit, Urban Outfitters, Kookai, Kuyichi, Massimo Dutti.
CEO: Federico Conroy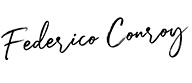 Our purpose is to be the most reliable cotton garments exporter company in Peru, according with our values: quality, commitment and fulfillment.
We are a reliable team, engaged with our customers, employees, suppliers and the community, delivering high quality products and on time fulfillment.